Posted Apr 12th 2010, 08:09 AM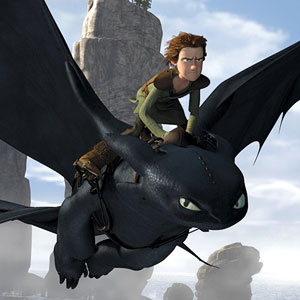 I'm not a big box-office watcher, but I pay enough attention to be frustrated by audiences rewarding films that I think are undeserving and ignoring films that I think merit attention. Not always, of course. It's gratifying to watch movies like Green Zone and The Wolfman flop. But then along come films like Alice in Wonderland and Clash of the Titans, both of which critics generally saw in a dim light, and audiences flock enthusiastically to them.
Especially frustrating is watching a particular target audience or demographic embrace a less worthy film over a more worthy one. For example, early box-office reports for the charming, critically acclaimed cartoon How to Train Your Dragon were not encouraging, yet the same family audiences neglecting How to Train were making a hit of Alice in Wonderland, a chilly exercise in Burtonesque art direction and aggrieved feminism.
Well, there's no accounting for Alice's success — but it's heartening to see How to Train Your Dragon now rebounding to unexpected heights on fantastic word of mouth. In the analysis of Box Office Guru's Gitesh Pandya:
The big story this weekend came in third place where the 3D animated film How To Train Your Dragon witnessed a remarkably low 13% decline in its third round for an estimated $25.4M gross boosting the 17-day total to a terrific $133.9M. Short-sighted film industry watchers and impatient Wall Street investors prematurely dismissed Dragon and DreamWorks Animation after its less-than-stellar opening weekend two weeks ago. The company's stock dropped 8% on the first trading day after the debut with analysts lowering their estimates for the final domestic take to just $152M. Dragon will now crush that mark next weekend and looks on course to break the $200M barrier too becoming the second biggest 3D toon of all-time behind just the $293M of Up.

Beating Pixar's Oscar winner may not be possible, but outgrossing other competitors like Monsters vs. Aliens, Ice Age 3, and Cloudy with a Chance of Meatballs makes Dragon a powerful performer. The PG-rated film was indeed slow out of the gate, but amazing word-of-mouth coupled with school holidays for spring have made Dragon the must-see film for kids and parents. Competition for families and 3D screens remains extremely light for the next five weeks so the Viking pic's strong run should continue. Reaching $250M cannot be ruled out at this point given the road ahead since Dragon will be able to earn at least five times its opening figure, if not more.
I wasn't a fan of either Ice Age 3 or Monsters vs. Aliens (another family flick marred by aggrieved feminism), so it's nice to see the initially underrated How to Train soar past them. Then again, I also thought that Cloudy with a Chance of Meatballs was a better film than either of them (looking back at my review of Cloudy, I see that I drew explicit contrasts to both Ice Age 3 and Monsters vs. Aliens).
At least films like Cloudy and How to Train are finding the audiences they deserve, even if less worthy films often do better than they deserve.
Related Content
The action, though no more realistic than the most cartoony chop-socky movies, is really intense — too intense for sensitive youngsters. For kids up for rolling with the punches, though,
Kung Fu Panda
may just be DreamWorks Animation's most entertaining and endearing CGI cartoon to date.